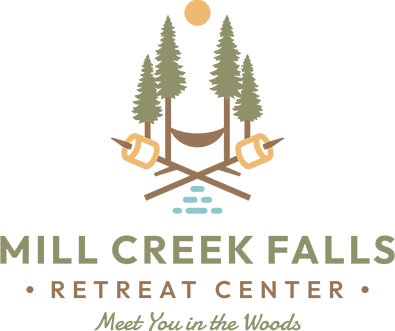 We get it… sometimes you have to get up close and personal with nature. For our guests who love roughing it, our tent sites in Archery Grove and the Hammock Circle are the perfect way for you to enjoy your stay at Mill Creek Falls, front and center with the great outdoors. 

Archery Grove supports up to three tents for a perfect natural hideaway. Tent guests are able to use the rustic bathrooms and showers at the pool house, as well as enjoy access to all the outdoor Mill Creek amenities.
Family Rate (up to 6 people or 2 tents)
3 Tents and up to 10 people
High-Season Pricing: (Includes pool access)
Family Rate (up to 6 people or 2 tents)
3 Tents and up to 10 people

The Hammock Circle is a fun and unique way to relax with friends and enjoy the beauty of nature around you. Whether you're escaping to solitude to read a book or camping out overnight with friends, you'll find peace, relaxation, and accommodation waiting for you at the Hammock Circle. 
Nightly Rate for Exclusive Use


"We rented out the lodge and few cabins for the weekend after our wedding to hang out with friends who had come to town. We loved this place! Very clean. Kitchen in the lodge had all the basic equipment that you need to cook. We learned to play gaga ball and enjoyed that as well. The pool was nice. Cell service from T mobile worked great. Also did a nice hike down to the dam from the retreat center. Overall a great experience and excellent communication from Kelly!"
Lauren
"I truly enjoyed my time at Mill Creek Falls Retreat Center. Even in the winter, this place is full of beauty! It was the perfect place to rest and relax, take some time to slow down and listen to the sounds of nature. There are so many quaint cabins at the center and the River Trail was really wonderful to hike along! With having such a great experience in the winter, I can only imagine how stunning and peaceful it would be in the spring, summer and fall seasons! I can't wait to return!"
Alyssa H.
"Beautiful nature setting! Cabin was comfortable and very clean. Great trails, well maintained. Many interesting spots and details on the grounds to explore!"
Bonnie Z.