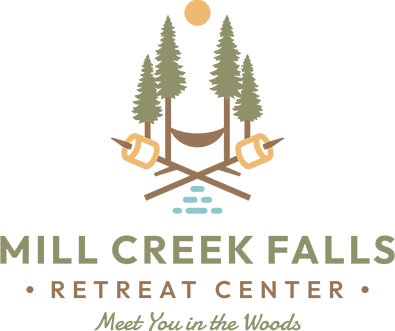 There's always something to do here. At Mill Creek Falls Retreat Center, we're all about making sure our guests feel taken care of and rich with options on how to enjoy themselves during their stay. Whatever else we can do to accommodate you… just let us know.

Located at every site, and the location of every delicious camping meal made right here during your stay. 

With supplies and souvenirs alike, the Camp Shop has everything you need to keep the fun going. 

The swing circles are a great communal place to sit easy and enjoy the fresh forest air.

For the kids… swinging, climbing, running, making friends. It's all part of the Mill Creek Falls experience.
Kick, hit, and dodge the ball with your opponents to be the last one standing in Gaga Pit!

Grab a ball and get some shots up with your friends with our on-site basketball court. 

You'll want to make use of the pool while you're here. There's nothing like a warm pool in the forest air. 

The Hammock Circle is a fun and unique way to relax with friends and enjoy the beauty of nature around you.

For truly exploring and discovering all the beauty of the surrounding area, you'll need to hit the trail head. 


"We rented out the lodge and few cabins for the weekend after our wedding to hang out with friends who had come to town. We loved this place! Very clean. Kitchen in the lodge had all the basic equipment that you need to cook. We learned to play gaga ball and enjoyed that as well. The pool was nice. Cell service from T mobile worked great. Also did a nice hike down to the dam from the retreat center. Overall a great experience and excellent communication from Kelly!"
Lauren
"I truly enjoyed my time at Mill Creek Falls Retreat Center. Even in the winter, this place is full of beauty! It was the perfect place to rest and relax, take some time to slow down and listen to the sounds of nature. There are so many quaint cabins at the center and the River Trail was really wonderful to hike along! With having such a great experience in the winter, I can only imagine how stunning and peaceful it would be in the spring, summer and fall seasons! I can't wait to return!"
Alyssa H.
"Beautiful nature setting! Cabin was comfortable and very clean. Great trails, well maintained. Many interesting spots and details on the grounds to explore!"
Bonnie Z.