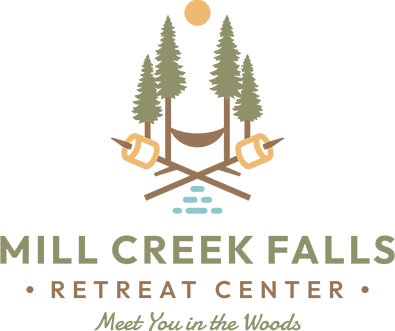 If you have questions ahead of hosting your wedding, event, or family getaway with us, good… we love answering them and helping you plan the best experience possible. Get started with our FAQs below, and if you don't see your specific answer, reach out so we can assist you directly. 
"DO YOU HAVE WIFI?"
No, we intentionally do not have wifi to encourage you to unplug and enjoy the forest! Most cell phone carriers have coverage at camp. T-Mobile does not.
"CAN WE GO DOWN THE TRAIL TO VISIT MILL CREEK FALLS?"
Yes! Most of the joining property extends down the road towards the Wildlands and you can access the Sports Field and River Trail Entrance down the Wildlands road. Please do not drive back that road. The Lancaster Conservancy maintains the trails and the Falls and their rules should be followed at all times.
"WHERE ARE THE TRAILS?"
The River Trail starts across from the sports field and goes down to Mill Creek where you can cross over to the Mason Dixon Trail. The Creek Trail runs from the corner of the Lodge, past the Nature Center to the pool or Wedding Glen.
"ARE THE CABINS HEATED?"
A-Frame, Tiny and Fairy are heated only by an electric fireplace and closed down each year when temperatures drop to freezing in October or November. All other buildings have heat!
"DO THE CABINS HAVE AIR CONDITIONING?"
All of our buildings have window AC units except the Commons.
"DO YOU SELL FIREWOOD?"
We do have a limited amount of dry cured firewood for sale for $1/piece. However, sometimes this sells out very quickly so consider grabbing a few bundles at the Amish farms along the way into camp. You will see the roadside signs selling firewood.
"CAN I USE GRILLS OR CAMPFIRES?"
Yes! We have 4 swing circle firepits, pine pavilion with a larger grill and additional pits and grills scattered around camp. You are welcome to use any of them, but guests tend to use the pits and grills closest to their cabin. You may need to share with others guests. Charcoal is for sale in the Mercantile and Grill Kits can be purchased ahead of time.
"DOES MY CABIN HAVE A KITCHEN?"
The Commons has a commercial kitchen, the Lodge has a residential kitchen and Chickadee has a small apartment sized kitchen. All other cabins have a mini-fridge, microwave, toaster, electric kettle, French Press and drip coffeemaker. Contact Kelly for a campfire and grill cooking inspiration sheet.
"DO YOU HAVE LINENS?"
Typically, guests bring their own sheets and/or sleeping bags, pillows and towels.
"CAN I GET A DISCOUNT?"
Maybe! If you have an extended stay or want to book during the off season (winter) or during the week (M-Th). Please contact us and let us know your budget, and we will work with you if we can. There are no discounts during the high season.


"We rented out the lodge and few cabins for the weekend after our wedding to hang out with friends who had come to town. We loved this place! Very clean. Kitchen in the lodge had all the basic equipment that you need to cook. We learned to play gaga ball and enjoyed that as well. The pool was nice. Cell service from T mobile worked great. Also did a nice hike down to the dam from the retreat center. Overall a great experience and excellent communication from Kelly!"
Lauren
"I truly enjoyed my time at Mill Creek Falls Retreat Center. Even in the winter, this place is full of beauty! It was the perfect place to rest and relax, take some time to slow down and listen to the sounds of nature. There are so many quaint cabins at the center and the River Trail was really wonderful to hike along! With having such a great experience in the winter, I can only imagine how stunning and peaceful it would be in the spring, summer and fall seasons! I can't wait to return!"
Alyssa H.
"Beautiful nature setting! Cabin was comfortable and very clean. Great trails, well maintained. Many interesting spots and details on the grounds to explore!"
Bonnie Z.