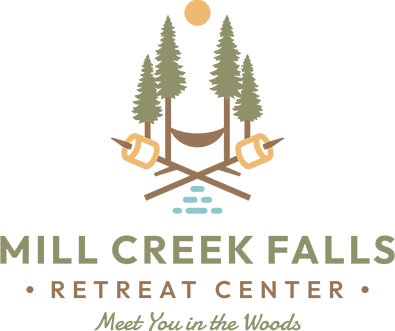 Nestled along historic Mill Creek in the scenic southern Pennsylvania woodlands, Mill Creek Falls Retreat Center invites you to join us for a camping and event experience that you won't forget. With 32 acres of campground and over 100 acres of preserved public woodlands, plus space for 125 overnight guests, campers and outdoors enthusiasts will be right at home in our beautiful retreat center. 


This is where we come to enjoy the outdoors. Mill Creek Falls Retreat Center began its life as church camp called Camp Donegal, and there are many fond memories of summer nights spent here connecting and enjoying everything that nature has to offer. We are continuing that legacy of welcoming people from all walks of life to embrace what we love about the outdoors and spending time together. 
Enjoy the convenience of our proximity to the metro locations of Philadelphia, New York City, Baltimore/DC, and Lancaster, as well as being a base camp for some of Eastern PA's best attractions.  

For events of all kinds, the Lodge is the beating heart of the retreat center where memories are made together in the woods. 

Whether you're part of a larger group or if you want to camp with accommodation, we have the perfect cabin for your and your family.

Get out and explore the campground and the surrounding area, then retreat to a comfortable bunkhouse in the evening!

Our tent sites and our famous Hammock Circle is the perfect way for hardcore campers to enjoy the invitation from nature to settle in.

MAKE MILL CREEK FALLS YOUR OWN
Weddings. Parties. Corporate retreats. Whatever you're
celebrating, Mill Creek Falls Retreat Center has the venue and the vibe to set the perfect scene for your group gathering. Choose from a selection of large or small rental buildings, or rent the entire retreat for a weekend you won't forget—the choice is yours!


"We rented out the lodge and few cabins for the weekend after our wedding to hang out with friends who had come to town. We loved this place! Very clean. Kitchen in the lodge had all the basic equipment that you need to cook. We learned to play gaga ball and enjoyed that as well. The pool was nice. Cell service from T mobile worked great. Also did a nice hike down to the dam from the retreat center. Overall a great experience and excellent communication from Kelly!"
Lauren
"I truly enjoyed my time at Mill Creek Falls Retreat Center. Even in the winter, this place is full of beauty! It was the perfect place to rest and relax, take some time to slow down and listen to the sounds of nature. There are so many quaint cabins at the center and the River Trail was really wonderful to hike along! With having such a great experience in the winter, I can only imagine how stunning and peaceful it would be in the spring, summer and fall seasons! I can't wait to return!"
Alyssa H.
"Beautiful nature setting! Cabin was comfortable and very clean. Great trails, well maintained. Many interesting spots and details on the grounds to explore!"
Bonnie Z.