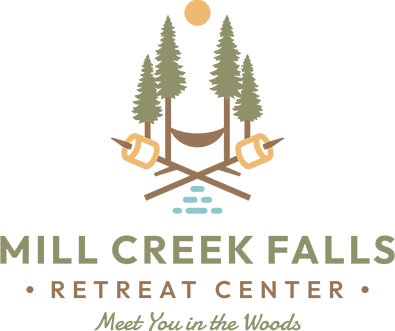 When you need space for a family or group, the bunkhouses at Mill Creek Falls are the perfect solution. Fully equipped and loaded with sleeping arrangements, your bunkhouse will be the center of many fun nights at the retreat and the place you rest well for the adventures and memories waiting tomorrow. 

Perfect for families camping together or as housing for group events, the Chickadee & Cardinal bunkhouses sleep 8 people and include a bathroom + shower with an extra sink in the living area. The Chickadee features a small kitchen with stove/fridge/sink… the Cardinal does not.  

The Eagle and the Grouse are two more excellent options for hosting large families and groups during your stay with us. You'll love the abundance of beds, comfortable living area, and the convenience of the bathroom + shower.

The Partridge and The Pheasant are two more bunkhouses that are located adjacent to each other and will comfortably host your large family or group. Enjoy sleeping arrangements for eight people, a mini fridge and microwave, coffee bar, and bathroom + shower. 

The Peacock and Quail are cute and comfortable bunkhouses that your group or large family will be happy to call home during your stay with us. Enjoy sleeping arrangements for 8, a bathroom + shower in each, comfortable living space, and an inviting outdoor sitting area with chairs. 


"We rented out the lodge and few cabins for the weekend after our wedding to hang out with friends who had come to town. We loved this place! Very clean. Kitchen in the lodge had all the basic equipment that you need to cook. We learned to play gaga ball and enjoyed that as well. The pool was nice. Cell service from T mobile worked great. Also did a nice hike down to the dam from the retreat center. Overall a great experience and excellent communication from Kelly!"
Lauren
"I truly enjoyed my time at Mill Creek Falls Retreat Center. Even in the winter, this place is full of beauty! It was the perfect place to rest and relax, take some time to slow down and listen to the sounds of nature. There are so many quaint cabins at the center and the River Trail was really wonderful to hike along! With having such a great experience in the winter, I can only imagine how stunning and peaceful it would be in the spring, summer and fall seasons! I can't wait to return!"
Alyssa H.
"Beautiful nature setting! Cabin was comfortable and very clean. Great trails, well maintained. Many interesting spots and details on the grounds to explore!"
Bonnie Z.